Residencies in Lagos, Nigeria 2015, 2013, 2011
Residency with VAN 2015/16 funded by the British Council
The aims of the residency was to spend three weeks working with Video Art Network, young people from Crown Troupe of Africa in Bariga and artist Segun Adefila to produce a new film about three young people and their struggle to survive in Lagos as well as develop partnerships and source funding for the artist residency exchange programme to start in 2016.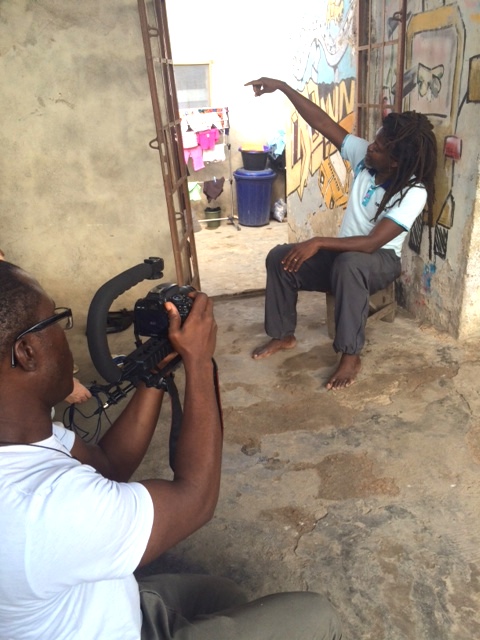 Residency in Lagos, Nigeria 2013
Sponsored by Rhoda Youth Centre and Arts Council Ireland's Travel and Training Grant to undertake three week residency at Rhoda Youth Centre base in Lagos, Nigeria
During my stay I helped set up a media/performing arts course at Rhoda and also produced new moving image works; "Area Boys" and "Febian" who is a young Lagosian trying to make living as a bus conductor.
Area Boys are loosely organised gangs of street children and teenagers who act as informal police officers, security guards, traffic wardens and other tasks associated by their area in exchange for money from the general public.
Building Communities 2011
Funded by Arts Council's Travel and Training Award. I travelled to Lagos in August 2011 to help set up pilot media projects in conjunction with Rhoda Youth Centre. I made a promotional film for Rhoda Youth Centre in collaboration with the young people. I also filmed activities for DIFN – Development Impact for Nigeria.
I also met with people and discussed ideas for my international residency programme. I re-connected with artists I had met in 2008 like musician Nico Gravity, met with Yeni Kuti (daughter of Fela Kuti), architect Theo Lawson and filmmaker Femi Odugbemi who are willing to help me develop and realise my ideas.